4

The Amsterdam Open MRI Collection, a set of multimodal MRI datasets for individual difference analyses
---
This chapter has been published as: Snoek, L., van der Miesen, M.M., Beemsterboer, T., van der Leij, A., Eigenhuis, A., & Scholte, H.S. (2021). The Amsterdam Open MRI Collection, a set of multimodal MRI datasets for individual difference analyses. Nature Scientific Data, 8, 85.
Abstract
We present the Amsterdam Open MRI Collection (AOMIC): three datasets with multimodal (3T) MRI data including structural (T1-weighted), diffusion-weighted, and (resting-state and task-based) functional BOLD MRI data, as well as detailed demographics and psychometric variables from a large set of healthy participants (
N
= 928,
N
= 226, and
N
= 216). Notably, task-based fMRI was collected during various robust paradigms (targeting naturalistic vision, emotion perception, working memory, face perception, cognitive conflict and control, and response inhibition) for which extensively annotated event-files are available. For each dataset and data modality, we provide the data in both raw and preprocessed form (both compliant with the Brain Imaging Data Structure), which were subjected to extensive (automated and manual) quality control. All data is publicly available from the OpenNeuro data sharing platform.
4.1

Background & summary

It is becoming increasingly clear that robust effects in neuroimaging studies require very large sample sizes (Button et al., 2013; Yarkoni, 2009), especially when investigating between-subject effects (Dubois & Adolphs, 2016). With this in mind, we have run several large-scale "population imaging" MRI projects over the past decade at the University of Amsterdam, with the aim to reliably estimate the (absence) of structural and functional correlates of human behavior and mental processes. After publishing several articles using these datasets (Elk & Snoek, 2020; Hoogeveen et al., 2020; Koolschijn et al., 2015; Ramakrishnan et al., 2014; Snoek et al., 2019), we believe that making the data from these projects publicly available will benefit the neuroimaging community most. To this end, we present the Amsterdam Open MRI Collection (AOMIC) — three large-scale datasets with high-quality, multimodal 3T MRI data and detailed demographic and psychometric data, which are publicly available from the OpenNeuro data sharing platform. In this article, we describe the characteristics and contents of these three datasets in a manner that complies with the guidelines of the COBIDAS MRI reporting framework (Nichols et al., 2017).

We believe that AOMIC represents a useful contribution to the growing collection of publicly available population imaging MRI datasets (Babayan et al., 2019; Mendes et al., 2019; Miller et al., 2016; Van Essen et al., 2013). AOMIC contains a large representative dataset of the general population, "ID1000" (N = 928), and two large datasets with data from university students, "PIOP1" (N = 216) and "PIOP2" (N = 226; Population Imaging of Psychology). Each dataset contains MRI data from multiple modalities (structural, diffusion, and functional MRI), concurrently measured physiological (respiratory and cardiac) data, and a variety of well-annotated demographics (age, sex, handedness, educational level, etc.), psychometric measures (intelligence, personality), and behavioral information related to the task-based fMRI runs (see Figure 4.1 and Table 4.1 for an overview). Furthermore, AOMIC offers, in addition to the raw data, also preprocessed data from well-established preprocessing and quality control pipelines, all consistently formatted according to the Brain Imaging Data Structure (Gorgolewski et al., 2016). As such, researchers can quickly and easily prototype and implement novel secondary analyses without having to worry about quality control and preprocessing themselves.

Due to the size and variety of the data in AOMIC, there are many ways in which it can be used for secondary analysis. One promising direction is to use the data for the development of generative and discriminative machine learning-based algorithms, which often need large datasets to train models on. Another, but related, use of AOMIC's data is to use it as a validation dataset (rather than train-set) for already developed (machine learning) algorithms to assess the algorithm's ability to generalize to different acquisition sites or protocols. Lastly, due to the rich set of confound variables shipped with each dataset (including physiology-derived noise regressors), AOMIC can be used to develop, test, or validate (novel) denoising methods.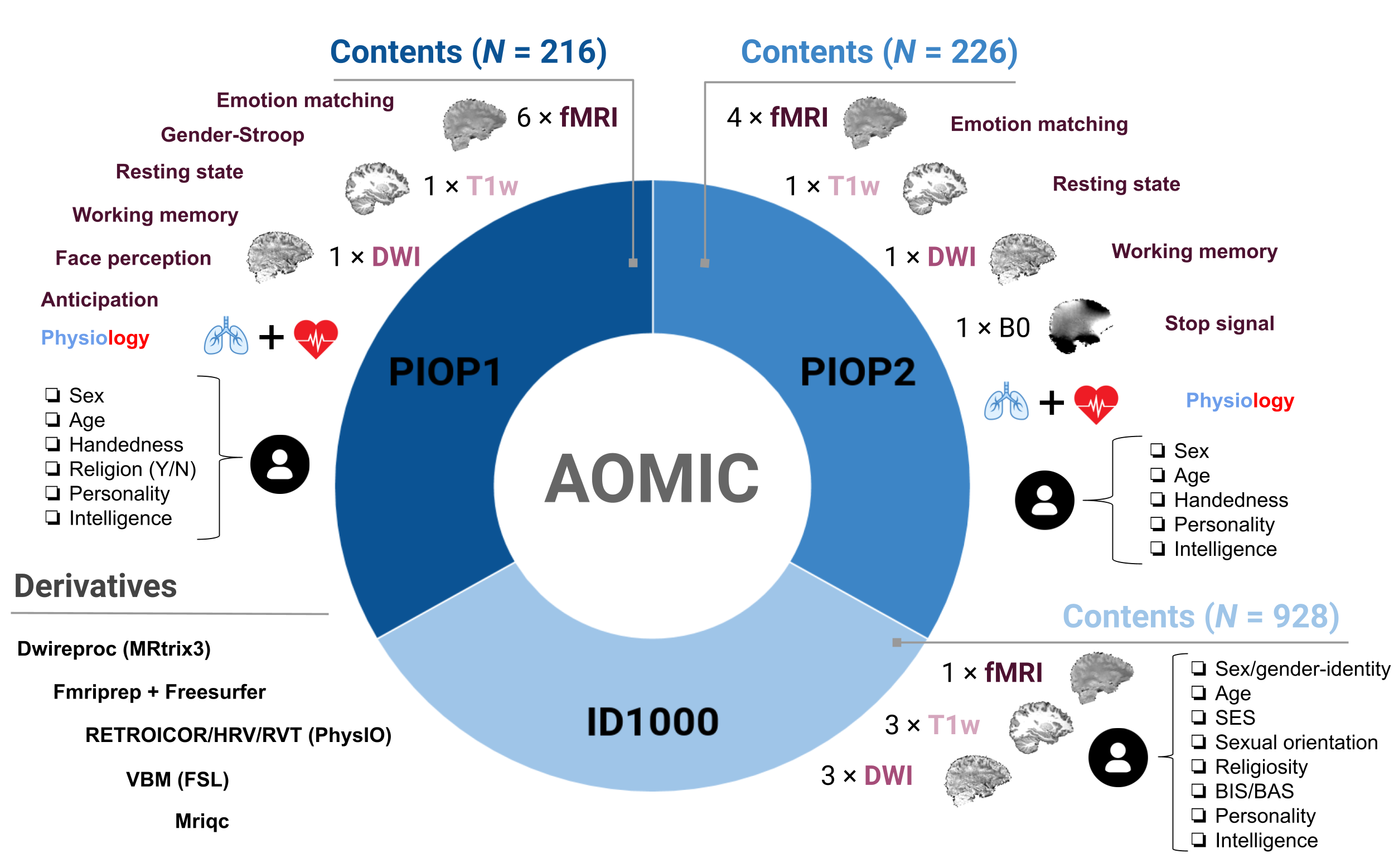 Table 4.1:

Overview of the number of subjects per dataset and tasks.
ID1000
PIOP1
PIOP2
N subj.
928
216
226
T1w
928
216
226
DWI
925
211
226
Fieldmap
n/a
n/a
226
Mov
RS
Emo
G-str
FP
WM
Antic
RS
Emo
WM
Stop
fMRI
881
210
208
208
203
207
203
214
222
224
226
Physiology
790
198
194
194
189
194
188
216
216
211
217

Note:

Mov: movie watching, RS: resting-state, Emo: emotion matching, G-str: gender-stroop, FP: face perception, WM: working memory, Antic: anticipation, Stop: stop-signal. Tasks without this subscript were acquired without multiband acceleration (i.e., "sequential" acquisition).
4.2

Methods

In this section, we describe the details of the data acquisition for each dataset in AOMIC. We start with a common description of the MRI scanner used to collect the data. The next two sections describe the participant characteristics, data collection protocols, experimental paradigms (for functional MRI), and previous analyses separately for the ID1000 study and the PIOP studies. Then, two sections describe the recorded subject-specific variables (such as educational level, background socio-economic status, age, etc.) and psychometric measures from questionnaires and tasks (such as intelligence and personality). Finally, we describe how we standardized and preprocessed the data, yielding an extensive set of "derivatives" (i.e., data derived from the original raw data).
4.3

Data records
4.3.1

Data formats and types

In AOMIC, the majority of the data is stored in one of four formats. First, all volumetric (i.e., 3D or 4D) MRI data is stored in compressed "NIfTI" files (NIfTI-1 version; extension: .nii.gz). NIfTI files contain both the data and metadata (stored in the header) and can be loaded into all major neuroimaging analysis packages and programming languages using, e.g., the nibabel package for Python (https://nipy.org/nibabel), the oro.nifti package in R (https://cran.r-project.org/web/packages/oro.nifti), and natively in Matlab (version R2017b and higher). Second, surface (i.e., vertex-wise) MRI data is stored in "Gifti" files (https://www.nitrc.org/projects/gifti; extension: .gii). Like NIfTI files, Gifti files contain both data and metadata and can be loaded in several major neuroimaging software packages (including Freesurfer, FSL, AFNI, SPM, and Brain Voyager) and programming languages using, e.g., the nibabel package for Python and the gifti package for R (https://cran.rstudio.com/web/packages/gifti).

Third, data organized as tables (i.e., observations in rows and properties in columns), such as physiological data and task-fMRI event log files, are stored in tab-separated values (TSV) files, which contain column names as the first row. TSV files can be opened using spreadsheet software (such as Microsoft Excel or Libreoffice Calc) and read using most major programming languages. Fourth, (additional) metadata is stored as key-value pairs in plain-text JSON files. A small minority of data in AOMIC is stored using different file formats (such as hdf5 for composite transforms of MRI data and some Freesurfer files), but these are unlikely to be relevant for most users.

Apart from data formats, we can distinguish different data types within AOMIC. Following BIDS convention, data types are distinguished based on an "identifier" at the end of the file name (before the extension). For example, T1-weighted files (e.g., sub-0001_T1w.nii.gz) are distinguished by the *_T1w* identifier and event log files for task-based functional MRI data (e.g., sub-001_task-workingmemory_acq-seq_events.tsv) are distinguished by the *_events* identifier. All data types and associated identifiers within AOMIC are listed in Supplementary Table C.6.
4.3.2

Data repositories used

Data from AOMIC can be subdivided into two broad categories. The first category encompasses all subject-level data, both raw data and derivatives. The second category encompasses group-level aggregates of data, such as an average (across subjects) tSNR map or group-level task fMRI activation maps. Data from these two categories are stored in separate, dedicated repositories: subject-level data is stored on OpenNeuro (https://openneuro.org; K Gorgolewski et al., 2017) and the subject-aggregated data is stored on NeuroVault (https://neurovault.org; Gorgolewski, Varoquaux, Rivera, Schwarz, Ghosh, Maumet, Sochat, Nichols, Poldrack, Poline, Yarkoni, et al., 2015). Data from each dataset — PIOP1, PIOP2, and ID1000 — are stored in separate repositories on OpenNeuro (L. Snoek et al., 2020b, 2020d, 2020f) and NeuroVault (L. Snoek et al., 2020a, 2020c, 2020e). URLs to these repositories for all datasets can be found in Table 4.5. Apart from the option to download data using a web browser, we provide instructions to download the data programmatically on https://nilab-uva.github.io/AOMIC.github.io.
Table 4.5:

Data repository identifiers for subject data (OpenNeuro) and group-level data (NeuroVault).
Repository
ID1000
PIOP1
PIOP2
OpenNeuro ID
ds003097
ds002785
ds002790
Neurovault ID
7105
7103
7104

Note:

To go to the OpenNeuro web repositories, prefix the OpenNeuro ID with "https://openneuro.org/datasets/". To go to the NeuroVault web repositories, prefix the NeuroVault ID with "https://neurovault.org/collections/".
4.3.2.1

Data anonymization

In curating this collection, we took several steps in ensuring the anonymity of participants. All measures were discussed with the data protection officer of the University of Amsterdam and the data steward of the department of psychology, who deemed the anonymized data to be in accordance with the European General Data Protection Regulation (GDPR).

First, all personally identifiable information (such as subjects' name, date of birth, and contact information) in all datasets were irreversibly destroyed. Second, using the pydeface software package (Gulban et al., 2019), we removed facial characteristics (mouth and nose) from all anatomical scans, i.e., the T1-weighted anatomical scans and (in PIOP2) magnitude and phase-difference images from the B0 fieldmap. The resulting defaced images were checked visually to confirm that the defacing succeeded. Third, the data files were checked for timestamps and removed when present. Lastly, we randomized the subject identifiers (sub-xxxx) for all files. In case participants might have remembered their subject number, they will not be able to look up their own data within our collection.
4.4

Technical validation

In this section, we describe the measures taken for quality control of the data. This is described per data type (e.g., anatomical T1-weighted images, DWI images, physiology, etc.), rather than per dataset, as the procedure for quality control per data type was largely identical across the datasets. Importantly, we take a conservative approach towards exclusion of data, i.e., we generally did not exclude data unless (1) it was corrupted by scanner-related incorrigible artifacts, such as reconstruction errors, (2) when preprocessing fails due to insufficient data quality (e.g., in case of strong spatial inhomogeneity of structural T1-weighted scans, preventing accurate segmentation), (3) an absence of a usable T1-weighted scan (which is necessary for most preprocessing pipelines), or (4) incidental findings. This way, the data from AOMIC can also be used to evaluate artifact-correction methods and other preprocessing techniques aimed to post-hoc improve data quality and, importantly, this places the responsibility for inclusion and exclusion of data in the hands of the users of the datasets.

Researchers not interested in using AOMIC data for artifact-correction or preprocessing techniques may still want to exclude data that do not meet their quality standards. As such, we include, for each modality (T1-weighted, BOLD, and DWI) separately, a file with several quality control metrics across subjects. The quality control metrics for the T1-weighted and functional (BOLD) MRI scans were computed by the Mriqc package (O. Esteban, Birman, et al., 2017) and are stored in the group_T1w.tsv and group_T1w.tsv files in the mriqc derivatives folder. The quality control metrics for the DWI scans were derived from the output of FSL's eddy algorithm and are stored in the group_dwi.tsv file in the dwipreproc derivatives folder. Using these precomputed quality control metrics, researchers can decide which data to include based on their own quality criteria.
4.4.1

T1-weighted scans

All T1-weighted scans were run through the Mriqc pipeline, which outputs several quality control metrics as well as a report with visualizations of different aspects of the data. All individual subject reports were visually checked for artifacts including reconstruction errors, failure of defacing, normalization issues, and segmentation issues (and the corresponding data excluded when appropriate). In Figure 4.4, we visualize several quality control metrics related to the T1-weighted scans across all three datasets. In general, data quality appears to increase over time (with ID1000 being the oldest dataset, followed by PIOP1 and PIOP2), presumably due to improvements in hardware (see Scanner details and general scanning protocol). All quality control metrics related to the T1-weighted scans, including those visualized in Figure 4.4, are stored in the group_T1w.tsv file in the mriqc derivatives folder.

4.4.2

Functional (BOLD) scans

Like the T1-weighted images, the functional (BOLD) scans were run through the Mriqc pipeline. The resulting reports were visually checked for artifacts including reconstruction errors, registration issues, and incorrect brain masks.

In Figure 4.5, we visualize several quality control metrics related to the functional scans across all three datasets. Similar to the T1-weighted quality control metrics, the functional quality control metrics indicate an improvement of quality over time. Also note the clear decrease in temporal signal-to-noise ratio (tSNR) for multiband-accelerated scans (consistent with Demetriou et al. (2018)). All quality control metrics related to the functional MRI scans, including those visualized in Figure 4.5, are stored in the group_bold.tsv file in the mriqc derivatives folder.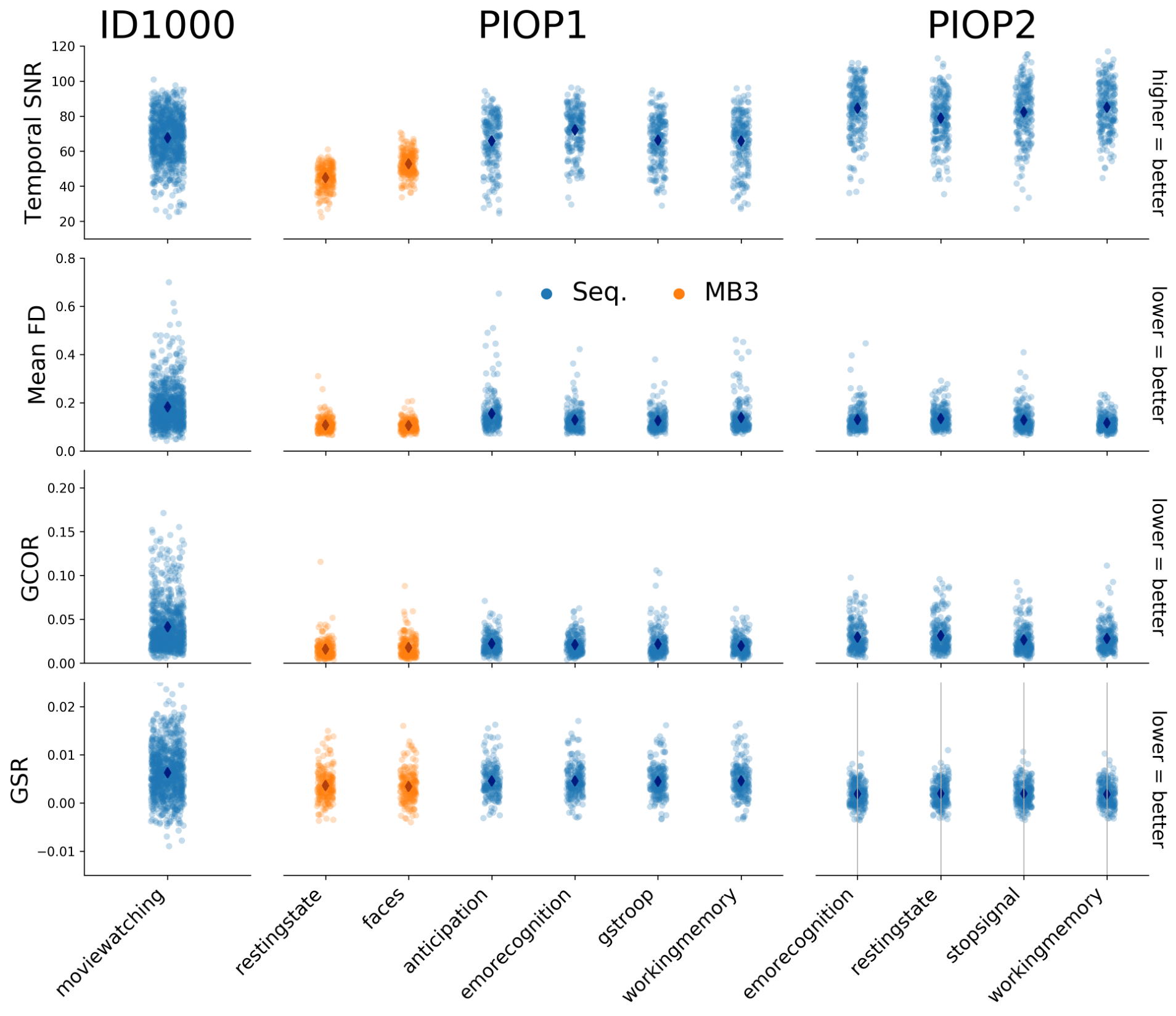 In Figure 4.6, we visualize these tSNR maps for each dataset (and separately for the sequential and multiband scans of PIOP1). Again, there appears to be an increase in tSNR across time. Corresponding whole-brain tSNR maps can be viewed and downloaded from NeuroVault (i.e., files with the *_tsnr* identifier).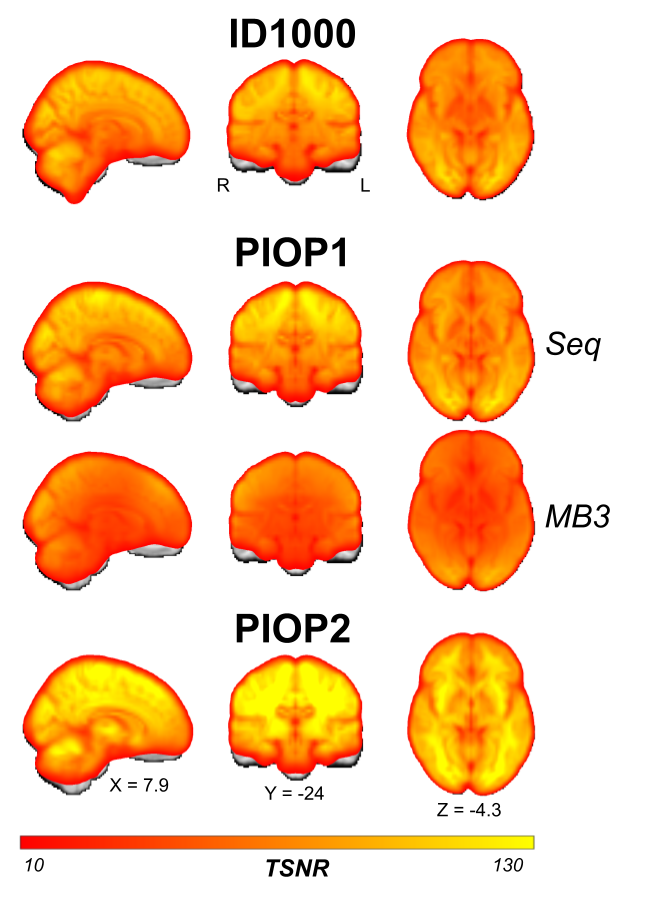 For the fMRI data with an explicit task (i.e., all fMRI data except for the PIOP resting-state fMRI scans and the ID1000 movie watching fMRI scan), we additionally computed group-level whole-brain statistics maps. To do so, using the nistats Python package, we ran mass-univariate first-level GLS models (using an AR1 noise model) based on a design matrix including task-regressors based on the events convolved with a canonical HRF function as well as a discrete cosine basis set functioning as a high-pass filter of 128 seconds and six motion regressors and computed first-level contrast maps for each subject which were subsequently analyzed in a random effects group-level (intercept) model, resulting in whole-brain z-value maps. The data was never spatially smoothed. In Figure 4.7, we show the (uncorrected) whole-brain group-level results for each task. Note that we chose these specific contrasts to demonstrate that the tasks elicit to-be expected effects (e.g., amygdala activity in the emotion matching task and cingulate cortex activity in the gender-stroop task). Different, and more sophisticated analyses, including analysis of between-subject factors, are possible with this data and the associated event files.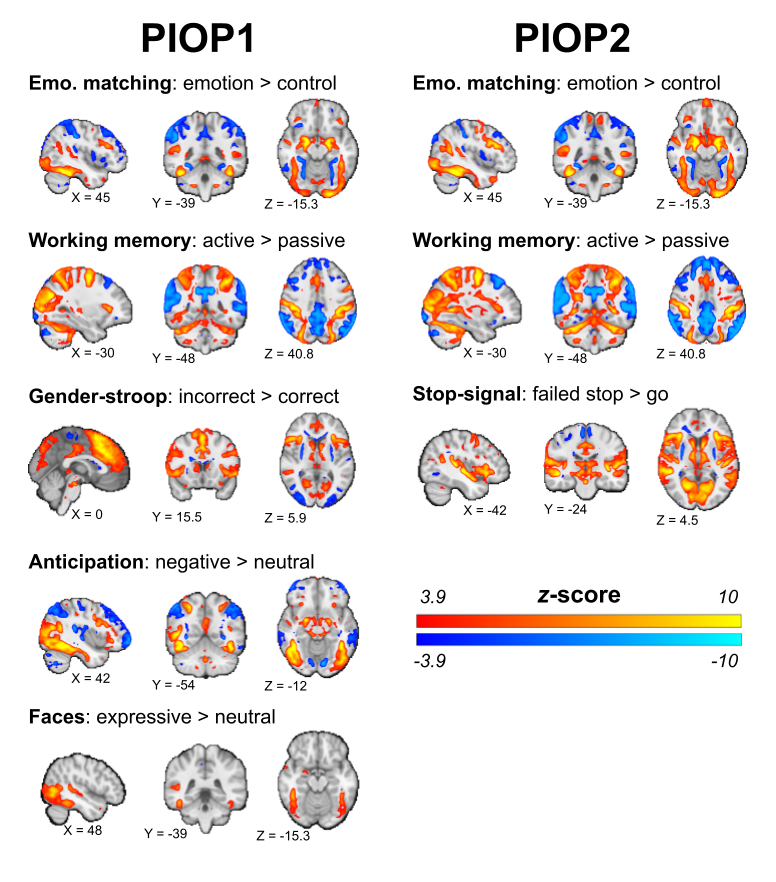 To validate the quality of the resting-state functional MRI scans in PIOP1 and PIOP2, we ran dual regression analyses (Beckmann et al., 2009) using the spatial ICA maps from Smith and colleagues (10-component version; Smith et al., 2009). Prior to the dual regression analyses, the data was cleaned and high-pass filtered (using a 128 second cutoff) by regressing out a discrete cosine basis set and six motion parameter estimates and spatially smoothed with a Gaussian kernel with a 5 mm FWHM. Figure 4.8 shows the group-level dual regression results from both PIOP1 and PIOP2 for the first four components next to the original ICA map from Smith et al. (2009).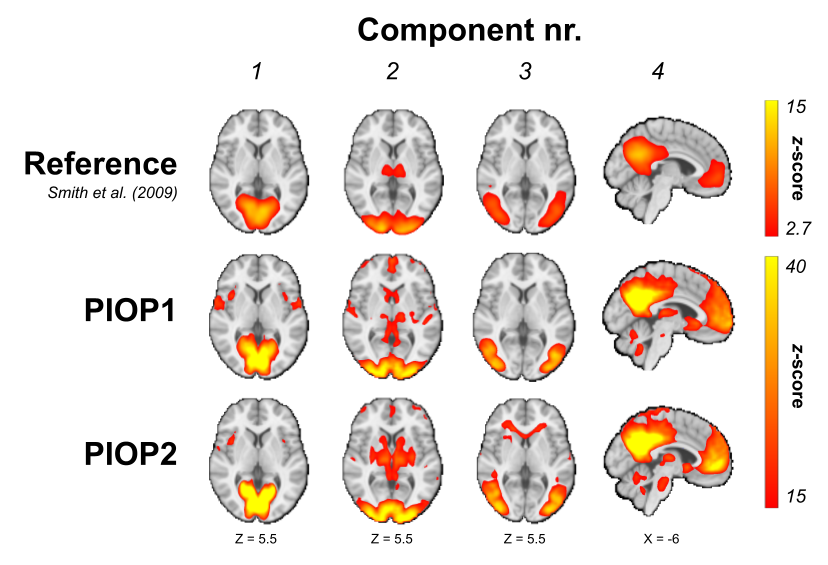 Finally, to assess the quality of the ID1000 functional MRI data, we performed a voxelwise whole-brain "inter-subject correlation" (ISC) analysis (Hasson et al., 2004), using the BrainIAK software package (Kumar et al., 2020) on data from a subset of 100 participants (randomly drawn from the ID1000 dataset). Before computing the inter-subject correlations, the data were masked by an intersection of a functional brain mask and a grey matter mask (probability > 0.1). Low-frequency drift (with a cutoff of 128 seconds), the mean signal within the cerebrospinal fluid, global (whole-brain average) signal, and six motion parameters were regressed out before computing the ISCs. The average (across subjects) voxelwise ISCs are visualized in Figure 4.9, which shows the expected inter-subject synchrony in the ventral and dorsal visual stream. The emphasis on variance in visual parameters rather than narrative when composing the movie stimulus likely caused the high ISC values to be largely restricted to visual brain areas.

4.4.3

Diffusion-weighted scans

Before preprocessing, the b=0 volume from each DWI scan was extracted and visually checked for severe artifacts and reconstruction errors (in which case the data was excluded). After preprocessing and DTI model fitting, we furthermore visualized each estimated fractional anisotropy (FA) map and the color-coded FA-modulated (absolute) eigenvectors for issues with the gradient directions. These images are included in the DWI derivatives.

Furthermore, we extracted quality control metrics based on outputs from the eddy correction/motion correction procedure in the DWI preprocessing pipeline as implemented in FSL's eddy algorithm (based on the procedure outlined in Bastiani et al. (2019)). Specifically, we computed the mean framewise displacement across volumes based on the realignment parameters from motion correction, the percentage of "outlier slices" (as determined by FSL eddy) in total and per volume, and the standard deviation of the estimated linear eddy current distortions across volumes. These metrics are visualized in Figure 4.10. Note that the y-axis for the standard deviation of the eddy currents for ID1000 has a larger range than for PIOP1 and PIOP2 to show the scans with particularly strong eddy current fluctuations.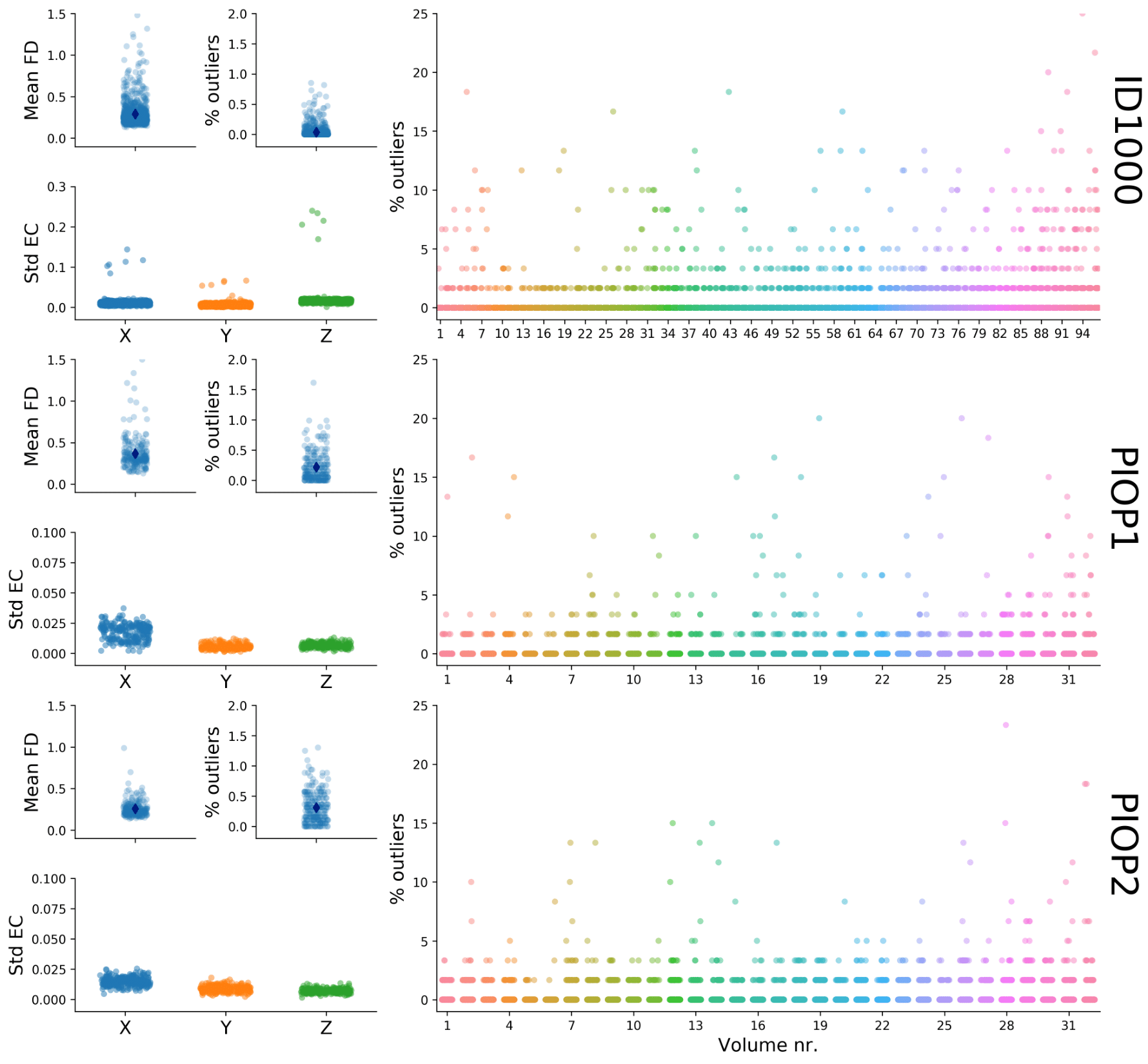 Finally, for each dataset, we transformed all preprocessed DTI eigenvectors to a population template estimated on all FA images using MRTrix' population_template (using a linear followed by a non-linear registration procedure) and computed the voxelwise median across subjects. The median eigenvector images are visualized in Figure 4.11 as "diffusion-encoded color" (DEC) images, in which values are modulated by the associated FA values.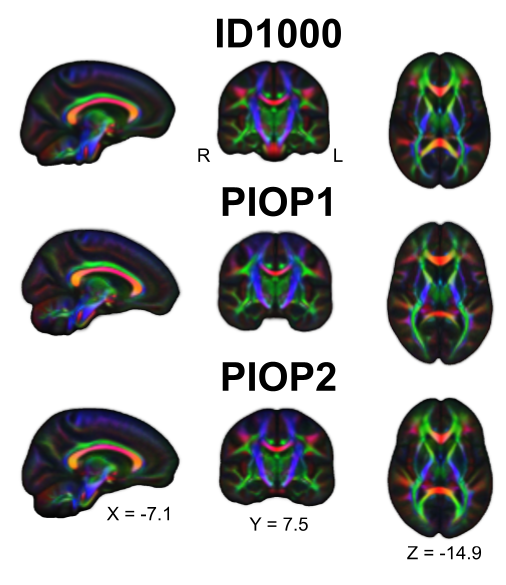 4.4.4

Physiological data

After conversion to BIDS, physiological data was visually checked for quality by plotting the scanner triggers (i.e., volume onsets) and the cardiac and respiratory traces. Files missing a substantial window of data (>10 seconds) were excluded as well as files for which the scanner triggers could not be estimated reliably. Figures of the physiology traces and scanner triggers for each file are included in the physiology derivatives. Additionally, using the same approach as described for the task-based technical validation analyses, we fit first-level (subject-specific) and subsequently group-level (subject-average) models using the physiology regressors (all 18 RETROICOR regressors, one HRV, and one RVT regressor) for each dataset. In Figure 4.12, we visualize the effects of the different RETROICOR components (respiratory, cardiac, and interaction regressors; an F-test, but converted to and visualized as z-scores) and the HRV and RVT regressors (a t-test, but converted to and visualized as z-scores). Unthresholded whole-brain maps are available from NeuroVault.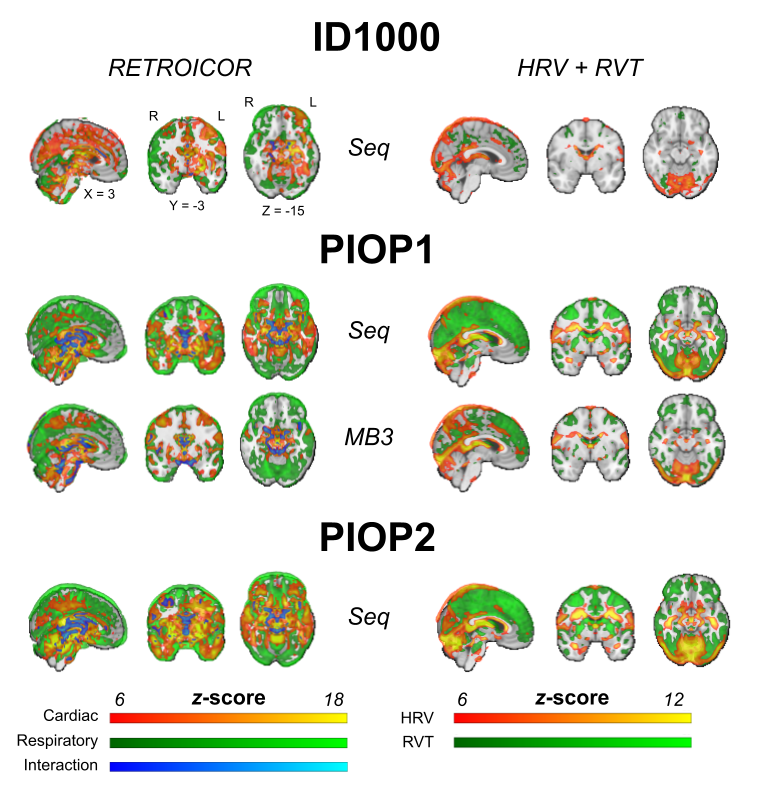 4.4.5

Psychometric data

The patterns of correlations within the scales of the questionnaires are consistent with those reported in literature, indicating that this data is overall reliable. The pattern of correlations between scales of different questionnaires and external variables is also consistent with those reported in literature and what would be expected on theoretical grounds.
4.4.5.1

Intelligence Structure Test (IST)

The subscales of the IST (fluid and crystallized intelligence and memory) are strongly correlated with each other. The validity of the measure data is supported by the correlation with relevant external variables like educational level, \(r(926) = 0.46\)) and background SES, \(r(926) = 0.35\) (see Table 4.6).
Table 4.6:

Correlations between total score, and subscales of the IST and relevant external variables.
IST (N = 926)
IST Int
IST Crystal
IST Memory
IST Fluid
Background SES
Education
IST Int
1
0.82**
0.79**
0.96**
0.35**
0.46**
IST Crystallized
1
0.58**
0.68**
0.37**
0.44**
IST Memory
1
0.65**
0.25**
0.39**
IST Fluid
1
0.31**
0.41**
Background SES
1
0.38**
Education
1

Note:

IST: Intelligence Structure Test, Int: Total Intelligence, SES: background social-economic status. ** indicates p < 0.01.
4.4.5.2

Personality: NEO-FFI

The cross-correlation patterns of the five NEO-FFI scales are depicted in Table 4.7. Significant correlations exist between the scales, and the correlation pattern is overall consistent with the reported norm data for this test (Hoekstra et al., 1996). The correlation between cross-correlation patterns of the three datasets is very consistent (\(r = 0.88\) between PIOP1 and PIOP2, and on average \(r = 0.74\) between ID1000 and PIOP), with as a notable outlier a negative correlation, \(r(928) = -0.13\), \(p < 0.001\), between extraversion and agreeableness in the ID1000 dataset and a positive correlation for these scales in the PIOP1, \(r(216) = 0.20\), \(p < 0.005\), and PIOP2, \(r(226) = 0.26\), \(p < 0.001\). A source for this discrepancy could be the difference in population sample between the PIOP1 and PIOP2 studies and the ID1000 study.
Table 4.7:

Cross-correlations for the subscales of the NEO-FFI for the ID1000, PIOP1 and PIOP2 samples.
ID1000 (N = 927)
Neuroticism
Extraversion
Openness
Agreeableness
Conscientiousness
Neuroticism
1
-0.30**
0.15**
-0.08*
-0.43**
Extraversion
1
0.20**
-0.13**
0.12**
Openness
1
-0.06
-0.19**
Agreeableness
1
0.16**
Conscientiousness
1
PIOP1 (N = 216)
Neuroticism
1
-0.29**
0.18**
0
-0.25**
Extraversion
1
-0.05
0.20**
0.14*
Openness
1
0.08
-0.18**
Agreeableness
1
0.20**
Conscientiousness
1
PIOP2 (N = 226)
Neuroticism
1
-0.38**
0.12
-0.07
-0.24**
Extraversion
1
0.11
0.26**
0.25**
Openness
1
0.02
-0.04
Agreeableness
1
0.15*
Conscientiousness
1

Note:

With the exception of the correlation between agreeableness and extraversion the cross-correlation patterns are very similar across samples. * indicates p<0.05. ** indicates p<0.01.
In terms of external validity we note that openness to experience has a positive correlation with intelligence in all three samples (ID1000: \(r(925) = 0.22\), \(p < 0.001\), PIOP1: \(r(216) = 0.25\), \(p = 0.000196\)), PIOP2: \(r(225) = 0.24\), \(p = 0.000276\)).
4.4.5.3

BIS/BAS

The cross-correlation patterns of the BIS/BAS scales are depicted in Table 4.8. The cross-correlation between the scales are similar to the one reported by Franken et al. (2005) and contrary to what Carver & White (1994) predicted, with a positive correlation between the three different BAS-scales, but also between BIS and BAS-Reward, \(r(927) = 0.194\).
Table 4.8:

Cross-correlations for the subscales of the BIS/BAS for the ID1000 sample.
BIS/BAS (N = 928)
BAS drive
BAS fun
BAS reward
BIS
BAS drive
1
0.45**
0.34**
-0.19**
BAS fun
1
0.39**
-0.13**
BAS reward
1
0.19**
BIS
1

Note:

** indicates p<0.01.
4.4.5.4

STAI-T

The STAI-T scale measures trait anxiety. Because this instrument only consists of one scale we evaluate its reliability on the degree in which it shows correlations with other questionnaire scales that also have a pretension of measuring negative emotionality. Because we observe positive correlations with both Neuroticisms, \(r(927) = 0.77\), \(p < 0.001\)) and BIS, \(r(927) = 0.514\), \(p < 0.001\)) we conclude that the reported scales are reliable and consistent.
4.4.6

Code availability

All code used for curating, annotating, and (pre)processing AOMIC are version-controlled using git and can be found in project-specific Github repositories within the NILAB-UvA Github organization: https://github.com/orgs/NILAB-UvA. Many pre and postprocessing steps were identical across datasets, so the code for these procedures is stored in a single repository: https://github.com/NILAB-UvA/AOMIC-common-scripts. Possible parameters are all hard-coded within the scripts, except for a single positional parameter pointing to the directory to be processed. For custom Python-based scripts, we used Python version 3.7. All code was developed on a Linux system with 56 CPUs (Intel Xeon E5-2680 v4, 2.40GHz) and 126GB RAM running Ubuntu 16.04. All curation, preprocessing, and analyses were run on said Linux system, apart from the Fmriprep, Mriqc, and Freesurfer analyses, which were run in a Docker container provided by those software packages. Custom code was parallelized to run on multiple CPUs concurrently using the Python package joblib (https://joblib.readthedocs.io).

For curation, preprocessing, and analysis of the datasets, we used a combination of existing packages and custom scripts (written in Python or bash). To convert the data to the Brain Imaging Data Structure (BIDS), we used the in-house developed, publicly available software package bidsify (v0.3; https://github.com/NILAB-UvA/bidsify), which in turn uses the dcm2niix (v1.0.20181125; Li et al., 2016) to convert the Philips PAR/REC files to compressed nifti files. In contrast to the data from PIOP1 and PIOP2 (which were converted to nifti using dcm2niix), r2aGUI (v2.7.0; http://r2agui.sourceforge.net) was used to convert the data from ID1000. Because r2aGUI does not correct the gradient table of DWI scans for slice angulation, we used the angulation_correction_Achieva Matlab script (version December 29, 2007) from Jonathan Farrell to do so (available for posterity at https://github.com/NILAB-UvA/ID1000/blob/master/code/bidsify/DTI_gradient_table_ID1000.m). To remove facial characteristics from anatomical scans, we used the pydeface package (v.1.1.0; Gulban et al., 2019). Finally, to convert the raw physiology files (i.e., Philips "SCANPHYSLOG" files) to BIDS, we used the in-house developed, publicly available Python package scanphyslog2bids (v0.1; https://github.com/lukassnoek/scanphyslog2bids). The outputs from the BIDS-conversion pipeline were checked using the bids-validator software package (v1.4.3).

Anatomical and functional MRI preprocessing were done using Fmriprep (v1.4.1; see the Derivatives section for extensive information about Fmriprep's preprocessing pipeline]. For our DWI preprocessing pipeline, we used tools from the MRtrix3 package (www.mrtrix.org; v3.0_RC3; Tournier et al., 2019) and FSL (v6.0.1; Jenkinson et al., 2012). For the VBM and dual regression pipelines, we used FSL (v6.0.1; Douaud et al., 2007; Good, Johnsrude, et al., 2001b; Smith et al., 2004). To create the files with Freesurfer-based metrics across all participants, we used Freesurfer version 6.0.095. Physiological nuisance regressors (RETROICOR and HRV/RVT regressors) were estimated using the TAPAS PhysIO Matlab package (v3.2.0; Kasper et al., 2017).

First-level functional MRI analyses for technical validation were implemented using the Python package nistats (v0.0.1b2; Abraham et al., 2014) and nilearn (v0.6.2; Abraham et al., 2014; Pedregosa et al., 2011). For the inter-subject correlation analysis the Brain Imaging Analysis Kit was used (BrainIAK, http://brainiak.org, v0.10; RRID:SCR_014824; Kumar et al., 2020). Plotting brain images was done using FSLeyes (v0.32; McCarthy, 2021) and plotting statistical plots was done using the Python packages seaborn (Waskom et al., 2020) and Matplotlib (Hunter, 2007).